2003 Abraham/Magdamo Family and Friends News Letter, 12/25/2003
2003 was rather uneventful, though we always seem busy. It was our first year since 1997 without traveling to Silliman University to teach and do our other projects there. Priscilla's education projects continue through her students and friends there with her some direction from Vermont. Fred also continues to advise his graduate students there and write and correct their graduate exams. His paper to the Asian Association of Social Psychology in Manila (July) was given by his friend, colleague and coauthor, Bing Valbuena. Priscilla's project with her faculty and student ensembles to distribute CDs and music to the schools of Negros Oriental has stalled due to the death of the head of the Department of Education there. We are currently collecting funds to keep the project going since replacement personnel is unsure where they will get the funding. This project will help insure both the preservation of cultural heritage and diversity, but help teachers to better music.
In addition to producing the music pamphlets and CDs for that project, a major accomplishment for us has been the production of Priscilla's own CD, Huning Kaugalingun (click for more info), which features not only Priscilla's singing of Philippine songs, but some of her original field recordings. Shaun and his partner, Marcie, prepared the graphics for the CD, booklet, and insert. Lucky to have such talent in the family; required a lot of work. The printer kept goofing on the booklet, and had to redo it on both production runs of the CD. Pastilan!
Pricilla's vocal teaching and therapy business has been picking up, and involves trips to workshops, and visiting her new friend and mentor, Lynn Schuller, in the vocal-therapy world in Massachusetts.
Priscilla has had a few singing gigs, the main one this holiday season being joining a friend in a Xmas concert Dec. 28th. Fred gets to play the carols on his trumpet with them, and a Philippine song on the Wagner Tuba, seriously compromising the professional level of the performance!
One of our main activities has been to restore the gardens and doing some fix-up work with the house and apartment buildings. After Fred's Chaos Society's Conference, we had a visit from its President, Dick Bird, of Newcastle-on-Tyne, UK. We also had a visit from Palo Terni of Milan. Also, Fred has gone into partnership building a couple of spec houses to supplement the rental income. Even get to do some construction work on the sight as well as handle the finances and paper work. The house is framed as of this writing on Xmas day, and it was shown to a prospective customer in the rain yesterday (24th).
Shaun is very busy with his physics research and development job in Waitsfield, and sublets his dogs with us during the day. They drag me out of my chair for a walk once or twice a day, when I am not full time on the building site. His partner had a successful showing at the art/food festival in Stowe this summer. Her great art now includes Colorado-inspired nature from their year in Colorado.
Valerie, and her new partner Jaime, are heavy into fishing (two trips, to the keys and to the outer banks; the sea bass were very tasty, thank you very much). They are also heavy into sculling, and have been racing all summer.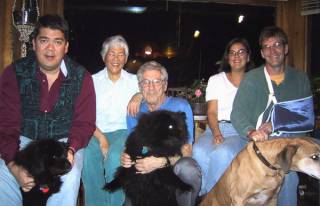 Shaun, Priscilla, Fred, Val, Jaime
Tien, NiWo, Maddi
March 2003