<![if !vml]>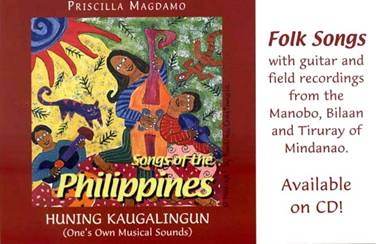 <![endif]>
Compact Discs Titles

Descriptions

Huni

One side of traditional music; second side of school songs.

Produced by Priscilla and the performance/educational group

Atong Huning Kaugalingun

Huning Kaugalingun

(One's Own Musical Sounds)

Philippine Folk Songs (including some field recordings of

Manobo, Bilaan, & Tiruray Tribes of Mindanao)

Produced and Performed by Priscilla and friends

Proceeds to assist musical/cultural projects in the Philippines
Huning Kaugalingun  may be ordered from Abraham, 1396 Gregg Hill Road, Waterbury Center, VT 05677 USA or by email to Priscilla.
                        Price:   US$15 + p&h            Discounts negotiable for quantity orders.
                        CD includes 28 Songs including 12 original field recordings. A booklet included has texts for each song in both Visayan and English.
Cover art by Paulina Constancia, reknown Cebuano artist.
<![if !vml]>
<![endif]>
Recording Engineers:

Charles Eller

Alan Stockwell

Remastering:

Charles Eller Studios
    Charlotte, VT USA

Field Recording Technician:

Leonardo V. Magdamo

Design and Layout:

Marcie Vallette

Shaun Abraham

© 2003 Priscilla Magdamo

Acknowledgements

To the numerous singers of Visayan folk songs and the Many tribal musicians who graciously shared the music Within them making an album such as this possible. The novel idea of combining field recordings with these new settings comes from my husband, Fred Abraham. Without his enthusiastic encouragement, advice and help in all phases of HuningKaugalingun, much of this music would remain unheard.

.

Table of Contents

1.  Kutub sang una nga tyempo (Aklanon)

2.  Nagadto ako sa sapa (Aklanon)

3.  Ahay, Tuburan! (Aklanon)

4.  Oras na sing aga (Aklanon)

5.  Rasakan (Tiruray)*

6.  Fngawi (Bilaan)*

7.  Day baling mingawa! (Cebuano)

8.  Pagkaanindut Iantawon (Cebuano)

9.  Anak mahin (Tiruray)*

10. Kon duna kay kasakit (Cebuano)

11. Hain ka na niyan (Waray)

12. Kamingaw hinin kagab-ihon (Waray)

13. Pulandag (Manobo)*

14. Dandansoy/Mimingawon ka (Hiligaynon/Waray)

15. Malanu (Maranaw)

16. Mandata (Manobo)*

17. Salguyun (Bilaan)*

18. Lamgi (Bilaan)*

19. Kmanta (Bilaan)*

20. Latutin (Bilaan)*

21. Likot Moroy (Bilaan)*

22. Banlay pa,Biyao (Manobo)

23. Uwawi (Kalingga)

24. Ili-ili tulug anay (Hiligaynon)

25. Gabbang (Tiruray)*

26. Aringkinding-kinding (Hiligaynon)

27. Kaskas (Bilaan)*

28. Inday, pamutus na (Cebuano)

* indicates field recording
<![if !vml]>
<![endif]>
Page created: 12/05/2003; update: 1/17/09, 11/9/2012 (fda)